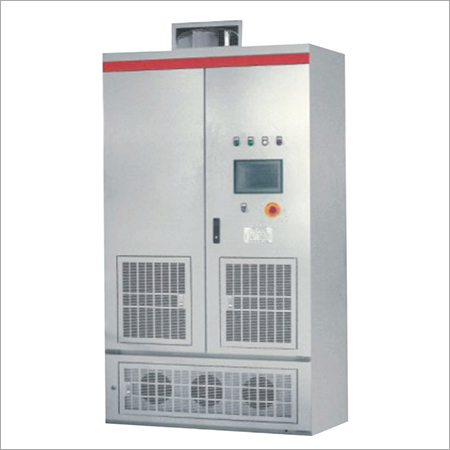 Active Power Filter
Product Code : DLAPF
Product Description
Active Power Filter is a kind of power electrical device. Its fundamental is to detect harmonic current from compensation object, then generate anti-harmonic compensation current, only leave the fundamental current in power system. APF device attracts a lot of attention. This device is an ideal device to prevent power grid "pollution" and improve power quality and save energy.
Application range
Following is the typical application range of APF:
site with frequency converter
site with imbalance loads
steel company
nonferrous metallurgy
harbor machine
electric railway
high precision automatic production line
CBD with energy saving lamp and air conditioners
features
APF series active power filter reached international advanced technology level. It can meet city power grid reformrequirements. It provide standard 3 phase symmetry sine voltage, compensates large capacity reactive power, harmonic current and negative-sequence current, lowers line loss.
Combine active power filter and passive power filter
DSP+FPGA all digital control system design
Using advanced compensation components separation method, quick DSP operation process, system trail time is approximately 20ms.
Equip perfect user interface, meets the requirements of local and remote control.
Automatic synchronization, no manual operation needed.
Modularized construction design, expandable capacity for user requirements.
Perfect protection function including overload, over voltage, under voltage, over current,temperature protection and self diagnosis.
Perfectly suitable for compensation of all harmonic, negative sequence and reactive power generated by various high-power non-linear load.
According to the requirements of reactive power compensation, harmonic compensation and negative sequence compensation, device can be uniformly set to multi-functionalor single functional.
Technical parameters
working principle
APF series active power filter is parallel with system, real-time monitoring the harmonic and reactive component of load, using PWM conversion technology, inject current, which is equile to the harmonic and reactive component in value, reversed in direction, to power distribution system and realize the functions of harmonic filteration and dynamic reactive compensation.
Main Technical Parameters
| | |
| --- | --- |
| Item | Requirements |
| Product standard | Q/XDL 17-2011 |
| Installation site | In door cabinet |
| Topological structure | Power unit parallel to PWM power source |
| Network voltage | (+10%-20%)rated voltage,frequency 50Hz(±5%) |
| Compensation harmonic range | 2~50 times |
| Response time | <1ms |
| Switch frequency | 10kHz(average) |
| Active power loss | <5% |
| Reliability index(mean time between failures) | 25000 hours |
| Power unit control signal connection | Optical cable |
| Noise grade | <60dBA |
| Protection grade | ≥IP20 |
| Cooling | Forced air cooling |
| Operating mode | Touch screen |
| Interface language | Chinese(default) English optional |
| Earthing requirement | Earthing resistance<1Ω |