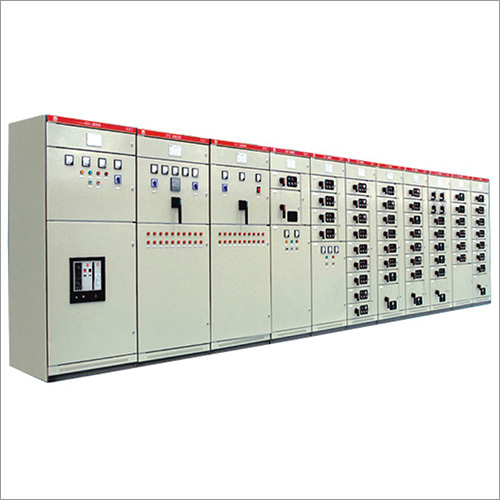 GCK Type Low Voltage Switchgear
Product Code : GCK Type
Product Description
The design of
Low Voltage Switchgear
has been generated by keeping its increased demand in electrical industry. This type of switchgear is used as an indispensable part of centralized power controlling system and interface of computer network. Convenient to set up, this switchgear requires minimal maintenance charge. Apart from its cost effectiveness, this product is preferred for its quick processing function during emergency situation, precise design and safety features. The operating principle of this low voltage product suits with the application needs of various electrical devices. Featured with ergonomic design, this product has easy to adjust parameters and it can easily integrate with different electrical systems. It is also capable of improving electrical attributes of various systems. Perfect for household application purpose, it boasts of having cutting edge features. It is preferred over its other counterparts available in the national market in terms of its reasonable price. This low voltage switchgear is used as an essential part of power substation and power distribution system of textile industry, power plant, multi storey building, chemical and oil processing industries. Its application can also be noticed in large scale industry like petrochemical or power generation plant. This switchgear helps to meet high automation needs in such industry. In these sectors, this switchgear is used for trouble free running of three-phase AC power driven communication interface with having 660V/400V/380V working voltage, 50 Hz to 60Hz voltage frequency level and 4000A voltage consumption rate. Certified by China Compulsory Certification (ID: 2004010301128012), this switchgear is instrumental in effective current transformation, supplying and controlling of electrical systems.
Standards and specifications

IEC439-1992 Low-voltage switchgear and control equipment
GB7251-2005 Low-voltage switchgear
ZBK36001-1989 Low voltage with drawable switchgear
JB/T9661-1999 Low voltage with drawable switchgear
Basic Information :

| | |
| --- | --- |
| Model No. | GCK |
| Type | Distribution Metering Box |
| Structure | Protection |
Additional Information :
| | | | |
| --- | --- | --- | --- |
| Trademark | Big Pawer | Packing | Wooden Case |
| Standard | CE, ISO9001 | Origin | Xiangyang, Hubei Province, China |
| HS Code | 85437099 | Production Capacity | 2000 Sets Per Year |
Application and performance

The design of GCK1 series motor control center is the combined attributes of different types of functional units and combined motor controlling units. All these units have been set up in the lower and upper overlap. A horizontally installed bus set has been used to maintain connection between each of its cabinet and this bus set is located at the uppermost section of cabinet. The vertical bus set in parallel direction has been used to join the functional units. This cabinet can be separated into four independent sections that include vertical bus bar room, horizontal bus bar room, installation room and cable room. The independent design of these rooms helps to avert system error in case malfunction occurs in any one of these rooms.

The manufacturing standard of this product is in sync with the specifications of ZBK36001-89 grade drawer type switchgear with low voltage mechanism. It has IEC114 rated IP40 protection features. Its safety features remain functional even when its functional units, plates and doors are not working properly.

This product boasts of having advanced safety circuit and effective grounding facility. Its functional units are capable of resisting current generated due to short circuit. Its input unit also comprises of three paragraphs trip. In short, its mechanism and design ensure safety of electrical systems and uninterrupted supply of power.
The functional units of this product can be attached via its interface section to computer processor or PLC controlled PC line board. It has 380V AC circuit with 50Hz frequency level. It serves as an administrative unit for automatic controlling system and combines various functional units as per the application needs of customers.


Model

Item

Standard

GCK 1

Standard

GB7251-2005, JB/T9661-1999

Protection Level

IP40, IP30

Rated voltage (V)

AC 380

Frequency (Hz)

50

Rated insulation voltage (V)

660

Working conditions

Circumstance

Indoor

Attitude

No more than 2000m

Ambient temperature

-50ºC~+40º the minimum temperature is -30º during storage and transportation

Relative humidity

No more than 85%

Control motor capacity (KW)

0.45~155

Mechanical life (Times)

500

Rated current(A) Rated short-time withstand current (KA)

Horizontal bus bar

1600\3150

Vertical bus bar

630\1000\1250

Socket connector of main circuit contacts

200\400\630

Socket connector of auxiliary circuit contacts

20

Maximum current of feeder circuit

630

Acceptation power circuit

1000\1600\2000\2500

Effective value

50\80

Peak value

105\176

Withstand voltage(V/1 min)

2500